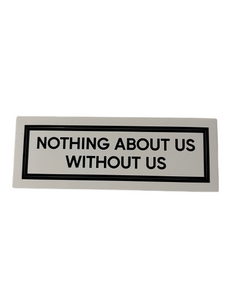 Retrophiliac
Nothing about us without us Vinyl Sticker, Car Decal, Bumper Sticker, Water bottle Sticker Disability Disabled Rights Movement Activism
Regular price
$4.00
$0.00
Unit price
per
This vinyl sticker says NOTHING ABOUT US WITHOUT US. It measures 3 inches in length and 0.81 inches height!

It's an easy peel sticker, meaning part of the black outline and the white outline is left on the sheet so it's easier to peel.

This can be a car decal, bumper sticker, water bottle sticker... so many possibilities!


I'm Autistic and when you support me, you're supporting all my dreams and making it possible for me to have items like this produced.

Don't hesitate to get in touch with me if you have any questions or comments. I try to respond very promptly.



---