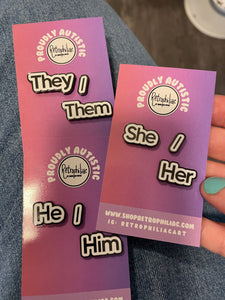 Retrophiliac
Mix and Match Pronoun Pins SMALL SIZE Rectangle Enamel Pin They Them She Her He Him
Regular price
$13.00
$0.00
Unit price
per
Introducing our Mix and Match Pronoun Pins Set - Express Yourself with Pronoun Pride!
Show your support for gender diversity and self-expression with our Mix and Match Pronoun Pins Set. This inclusive collection includes seven individual enamel pins, each representing different pronoun preferences:
"SHE / HER" Enamel Pin
"HE / HIM" Enamel Pin
"THEY / THEM" Enamel Pin
With these pins, you can effortlessly display your chosen pronouns, express your support for others, or mix and match as you like, creating a personalized statement that reflects your unique identity.
The pins are crafted with care, measuring 1.5 inches in length and 0.39 inches in height. They feature bold, easy-to-read text with the respective pronoun pairs elegantly arranged on a white background and framed by a sleek black border. Their small size makes them perfect for attaching to clothing, bags, hats, or any accessories you choose.
As a bonus, we've included a complimentary " / " (slash) pin, allowing you to further customize your pronoun statement. Use it to create your preferred pronoun combination, share pronouns with friends, or simply as a symbol of solidarity with the LGBTQ+ and gender-diverse communities.
Wear these Mix and Match Pronoun Pins proudly, initiate important conversations, and help foster an atmosphere of inclusivity and acceptance. Show that you stand with everyone's right to express their true selves and their pronoun preferences. With this set, your pronouns are not just a statement; they're a celebration of diversity and respect for all.
The sizes are as follows:
THEY: 25MM x 13.2 MM with two posts on the back (Please note, the font on this pin is SLIGHTLY thicker than the rest, trying to figure out why!)
THEM: 26.9MM X 10.7MM with two posts on the back
SHE: 19MM X 11MM with one post on the back
HIM: 20.6MM X 11.2MM with two posts on the back
HER: 19MM X 11.1MM with one post on the back
HE: 15.58MM X 11MM with one post on the back
/: 7.123MM x 11MM with one post on the back
WARNING: This is not a toy. Choking Hazard. Sharp edges. This product contains small parts and is not intended for children under 3 years old.
---