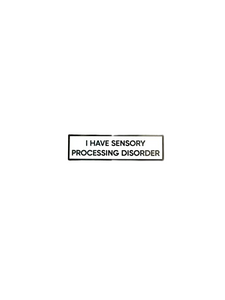 Retrophiliac
I Have Sensory Processing Disorder SMALL SIZE PIN 1.5 Inch Enamel Pin
Regular price
$11.00
$0.00
Unit price
per
Introducing the "I HAVE SENSORY PROCESSING DISORDER" Enamel Pin - For Understanding and Compassion!

Open the door to understanding and promote awareness with our "I HAVE SENSORY PROCESSING DISORDER" enamel pin. This discreet and refined rectangular pin, measuring 1.5 inches in width or length and 0.39 inches in height, serves as a powerful communicator for individuals navigating sensory sensitivities.

Featuring a white background, bold black text, and a matching black border, our hard enamel pin conveys a clear message with a touch of elegance. Its versatile design is perfect for various settings - from academic and professional environments to healthcare, customer service training in retail, workplace dynamics, and more.

Equipped with two secure posts on the back, this enamel pin ensures reliable attachment to your clothing, bag, or accessories. Its subtle size encourages you to wear it with pride, providing a voice to experiences often unseen.

Wearing the "I HAVE SENSORY PROCESSING DISORDER" enamel pin shares your unique journey and encourages awareness. In educational or professional contexts, it subtly communicates a hidden disability, fostering inclusivity. Amid customer interactions or challenging situations, it serves as a reminder to offer patience and empathy.

Join the movement of compassion and understanding. Let our enamel pin be your silent advocate, sparking essential conversations and nurturing empathy in every interaction.

Seize the opportunity to drive change and inspire empathy. Secure your "I HAVE SENSORY PROCESSING DISORDER" enamel pin now. Wear it not just as a symbol of your journey but as a reminder to approach each encounter with kindness, fostering a world that acknowledges diversity and supports one another.


WARNING: This is not a toy. Choking Hazard. This product contains small parts and is not intended for children under 3 years old.

---