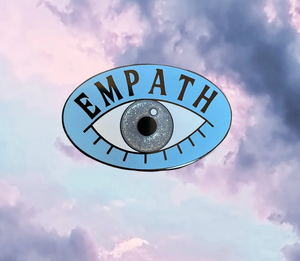 Ten + Eight Creations
Empath Eye Enamel Pin
Regular price
$11.00
$0.00
Unit price
per
Hi! I'm Becky, I'm Margaux's sister. My collection "Soft Hearts Society" was created for the anxious, witchy, ADHD, empathetic people - by someone who identifies as all of the above. 
________________________
You feel and see it all 👁💙
Silver and blue Eye Empath Pin sparkling with glitter accents that reflect the depth of emotions experienced by empathetic souls. It is a meaningful tribute to those who sense and understand the emotions of others, allowing them to see beyond the surface.
Wear this enchanting accessory as a symbol of your empathetic nature, a badge of honor that celebrates your unique ability to connect deeply with the world. Let the "Empath Eye Glitter Pin" be a reminder of your strength and compassion, as you embrace your gift of empathy and continue to spread understanding and love wherever you go.

Silver Glitter Iris Eye Empath Pin

Dimensions:
H: 26.33mm
W: 46mm

Please note the backings are rubber NOT metal.
Due to the nature of enamel pins, some scratches and minor imperfections may occur. Colours in photographs may not be true to colour in person.
WARNING: This is not a toy. Choking Hazard. Sharp edges. This product contains small parts and is not intended for children under 3 years old.
---