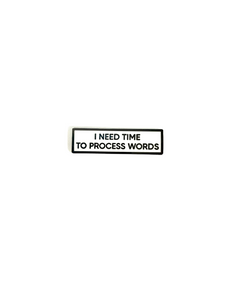 Retrophiliac
I Need Time To Process Words SMALL SIZE PIN 1.5 Inch Enamel Pin
Regular price
$11.00
$0.00
Unit price
per
Introducing the "I NEED TIME TO PROCESS WORDS" Enamel Pin - Embrace Your Unique Processing Pace!
Celebrate your individuality and communication style with our "I NEED TIME TO PROCESS WORDS" enamel pin. This sleek, rectangular pin, measuring 1.5 inches in width or length, serves as a powerful tool to communicate your need for processing time when it comes to words and conversations.
Designed with a white background, bold black text, and a black border, our hard enamel pin effortlessly combines simplicity and elegance. Its versatile appearance makes it suitable for a wide range of environments, including school settings, professional situations, health-related contexts, customer service training in retail, workplace scenarios, and more.
Featuring two secure posts on the back, this enamel pin ensures a durable attachment to your clothing, bag, or accessories. Its compact size allows for discreet yet impactful placement, enabling you to express your communication needs without sacrificing your personal style.
By wearing the "I NEED TIME TO PROCESS WORDS" enamel pin, you convey your unique processing style and encourage understanding in others. In educational and professional settings, it serves as a visual cue to communicate a hidden disability and promote empathy. In customer service interactions or stressful situations, it suggests the importance of patience and kindness when engaging in conversations.
Join the movement of embracing diverse communication styles and fostering a culture of understanding. Let our enamel pin be your silent advocate, fostering patience and acceptance in every interaction.
Don't miss the opportunity to express yourself and advocate for your communication needs. Order your "I NEED TIME TO PROCESS WORDS" enamel pin today and wear it proudly as a reminder to be patient, kind, and understanding in all conversations, creating a more inclusive and empathetic world.


WARNING: This is not a toy. Choking Hazard. Sharp edges. This product contains small parts and is not intended for children under 3 years old.

---