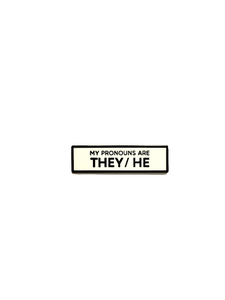 Retrophiliac
My Pronouns are They/He SMALL SIZE PIN 1.5 Inch Enamel Pin
Regular price
$11.00
$0.00
Unit price
per
Introducing the "MY PRONOUNS ARE THEY/HE" Enamel Pin: Celebrate Identity and Foster Inclusive Communication!

Embrace your unique identity and advocate for inclusivity with our "MY PRONOUNS ARE THEY/HE" enamel pin. Designed to empower individuals in the queer, LGBTQ, LGBTQIA, and LGBTQIA2+ communities, this pin is a powerful statement of personal pronoun preference. With a compact size of 1.5 inches x 0.39 inches, it's the perfect accessory to express yourself in various settings, including the service industry, schools, workplaces, conferences, and professional environments.

Crafted with exquisite attention to detail, our enamel pin showcases bold black text against a pristine white background, elegantly framed by a sleek black border. This striking color combination ensures maximum visibility and legibility, making your pronoun preference clearly visible to others.

Understanding and respecting personal pronouns is crucial for fostering inclusivity and creating a safe space for individuals of diverse gender identities. By wearing the "MY PRONOUNS ARE THEY/HE" pin, you express your pronoun preference and invite others to engage in respectful and accurate communication. It serves as a conversation starter and a reminder that everyone deserves to be addressed in a way that aligns with their authentic selves.

Equipped with two posts on the back, our pin ensures secure attachment, allowing you to proudly display your pronoun preference without worry. This design feature guarantees the pin stays firmly in place throughout your day, so you can confidently showcase your identity.

The "MY PRONOUNS ARE THEY/HE" enamel pin is a versatile accessory suitable for individuals from all walks of life. It serves as a beacon of solidarity, supporting LGBTQ+ individuals in their journey towards self-expression and understanding. Whether you're in the service industry, a student, a professional, or attending conferences, this pin acts as a visual cue, signaling your pronoun preference and promoting inclusive communication.

We believe in fostering an inclusive society where everyone feels respected and seen. Our pin is designed to be disability-friendly, allowing individuals of diverse abilities to navigate conversations more smoothly and with confidence. By wearing this pin, you become an ally to the LGBTQ+ community and an advocate for inclusive communication.

Celebrate your identity and promote understanding with our "MY PRONOUNS ARE THEY/HE" enamel pin. Make a bold statement while accessorizing your outfit and encourage conversations that honor and respect personal pronouns. Order your pin today and contribute to a more inclusive world.
For more of my stock, make sure you check out www.etsy.com/shop/retrophiliac and view all my offerings!

WARNING: This is not a toy. Choking Hazard. Sharp edges. This product contains small parts and is not intended for children under 3 years old.
---