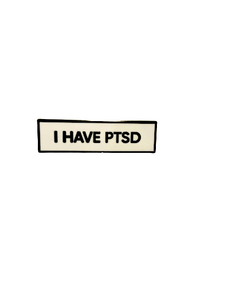 Retrophiliac
I Have PTSD SMALL SIZE 1.5 Inch Enamel Pin
Regular price
$11.00
$0.00
Unit price
per
Introducing the "I HAVE PTSD" Enamel Pin: Empowering Communication and Building Support!
Facilitate understanding, accommodation, and support with our "I HAVE PTSD" enamel pin. Designed to encourage open dialogue and promote awareness about Post-Traumatic Stress Disorder (PTSD), this pin is an essential accessory for individuals navigating the challenges of this condition. With a compact size of 1.5 inches x 0.39 inches, it's the perfect addition to your attire, allowing you to communicate your needs in various settings.
Crafted with meticulous attention to detail, our enamel pin features bold black text against a clean white background, tastefully framed by a sleek black border. This high-contrast design ensures maximum visibility, making it easy for others to recognize your condition and respond with compassion and understanding.
PTSD is a complex condition that affects individuals differently. By wearing the "I HAVE PTSD" pin, you proactively communicate your experience, fostering an environment where others can provide appropriate support and accommodations. This pin serves as a visual cue, helping to break down barriers and encouraging conversations that promote healing and understanding.
Equipped with two posts on the back, our pin ensures secure attachment, allowing you to proudly display your condition without concern. This design feature ensures that the pin remains in place, even during your most active moments.
The "I HAVE PTSD" enamel pin is a versatile accessory suitable for individuals in various professional and social environments. It serves as a valuable tool for disability communication, signaling the need for understanding, patience, and accommodation. Whether you're at work, school, conferences, or any other setting, this pin acts as a beacon, fostering empathy and supporting individuals with PTSD.
We understand the importance of accessibility and support for individuals with diverse experiences. Our pin is designed to be disability-friendly, enabling individuals with PTSD to communicate their needs with ease. By wearing this pin, you become an advocate for those living with PTSD, promoting awareness, understanding, and fostering a more supportive community.
Empower yourself and build support with our "I HAVE PTSD" enamel pin. Make a powerful statement while accessorizing your outfit and encourage conversations that promote empathy and healing. Order your pin today and contribute to a more compassionate and understanding world.

WARNING: This is not a toy. Choking Hazard. Sharp edges. This product contains small parts and is not intended for children under 3 years old.
---