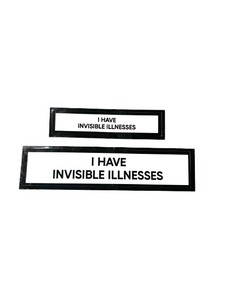 Retrophiliac
I Have Invisible Illnesses Communication Vinyl Stickers Set of 2
Regular price
$4.00
$0.00
Unit price
per
Introducing the "I HAVE INVISIBLE ILLNESSES" Vinyl Stickers! These communication vinyl stickers are based on our highly popular pins and provide a powerful way to express your experience with invisible illnesses.
Each set includes two stickers in different sizes, ensuring you have options for displaying them. The larger sticker measures 0.66 inches in height and 3 inches in length, while the smaller one measures 0.44 inches in height and 2 inches in length. This variety allows you to choose the sticker that suits your preference or use them in different locations for maximum visibility.
Please note that once the sticker is removed from the backing, the black border surrounding the design decreases in size. This intentional design feature ensures that the main message remains clear and easy to read.
Crafted from high-quality vinyl, these stickers are built to last. They feature a strong adhesive that keeps them securely in place on various surfaces, such as laptops, water bottles, notebooks, and more. Whether you're sharing your experience with friends, family, or the general public, these stickers provide a tangible way to communicate and raise awareness about invisible illnesses.
The "I HAVE INVISIBLE ILLNESSES" Vinyl Stickers not only allow you to express yourself but also serve as a tool to spark conversations and foster understanding. By proudly displaying these stickers, you contribute to a more inclusive and supportive environment, where others can better comprehend and empathize with the challenges of invisible illnesses.
Join the growing community of individuals who use these stickers to communicate their experiences and promote awareness. Order your set of "I HAVE INVISIBLE ILLNESSES" Vinyl Stickers today and make a powerful statement, encouraging empathy and understanding towards invisible illnesses.
---