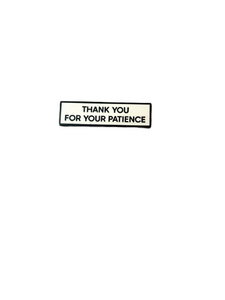 Retrophiliac
Thank You For Your Patience SMALL SIZE PIN 1.5 Inch Enamel Pin
Regular price
$11.00
$0.00
Unit price
per
Presenting the "THANK YOU FOR YOUR PATIENCE" Enamel Pin - A Grateful Reminder of Understanding and Kindness!

Express your gratitude and encourage patience with our elegant "THANK YOU FOR YOUR PATIENCE" enamel pin. This sleek, rectangular pin, measuring 1.5 inches in width or length, is designed to effectively communicate your appreciation while fostering empathy and understanding in various situations.

Featuring a clean white background with captivating black text and a black border, our hard enamel pin exudes a timeless simplicity that blends seamlessly into any setting. Its professional yet approachable design makes it an excellent accessory for school environments, professional situations, health-related settings, customer service training in retail, workplace scenarios, and more.

Equipped with two secure posts on the back, this enamel pin ensures a durable attachment to your clothing, bag, or other accessories, allowing you to proudly display your gratitude day after day. Its compact size and versatile shape make it effortless to wear without overpowering your attire, creating an eye-catching statement piece.

By wearing the "THANK YOU FOR YOUR PATIENCE" enamel pin, you convey not only your appreciation but also a reminder for others to exercise patience and understanding when interacting with you. In school or work settings, it can help communicate a disability and suggest an environment of empathy and support. In stressful situations, it serves as a gentle nudge towards kindness and compassion.

Join the movement of spreading gratitude and encouraging empathy. Let our enamel pin be your heartfelt reminder that patience is a virtue worth cherishing. Whether you're facing challenges, striving to create inclusive environments, or seeking to improve customer service experiences, this pin is a powerful tool that conveys your intentions and values.

Don't miss the opportunity to express your gratitude and inspire understanding. Order your "THANK YOU FOR YOUR PATIENCE" enamel pin now and let it serve as a catalyst for positive interactions, fostering kindness, and creating a more compassionate world.

WARNING: This is not a toy. Choking Hazard. Sharp edges. This product contains small parts and is not intended for children under 3 years old.

---