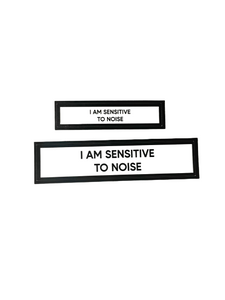 Retrophiliac
I Am Sensitive To Noise Communication Vinyl Stickers Set of 2
Regular price
$4.00
$0.00
Unit price
per
Introducing the "I AM SENSITIVE TO NOISE" Vinyl Stickers! These communication vinyl stickers are based on our highly popular pins and provide an effective way to express your sensitivity to noise.
Each set includes two stickers, ensuring you have both sizes available. The larger sticker measures 0.66 inches in height and 3 inches in length, while the smaller one measures 0.44 inches in height and 2 inches in length. With these two sizes, you can choose the sticker that best suits your preference or use them in different spaces for maximum visibility.
Please keep in mind that once the sticker is removed from the backing, the black border surrounding the design may decrease in size. This intentional design feature ensures that the primary message remains clear and easy to read.
Crafted from high-quality vinyl, these stickers are built to withstand daily use and maintain their vibrant appearance. The strong adhesive backing ensures a secure and long-lasting attachment to various surfaces such as laptops, water bottles, notebooks, and more. By proudly displaying these stickers, you raise awareness about your sensitivity to noise and foster understanding within your community.
The "I AM SENSITIVE TO NOISE" Vinyl Stickers serve as a powerful tool to communicate your specific needs and challenges related to noise sensitivity. They provide a visual representation of your experience, encouraging empathy and understanding from those around you.
Join the community of individuals who use these stickers to raise awareness and create positive change. Order your set of "I AM SENSITIVE TO NOISE" Vinyl Stickers today and make a statement about your unique sensitivity. Let these stickers spark conversations and foster an inclusive environment where everyone's needs are respected and accommodated.
---