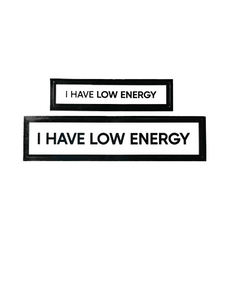 Retrophiliac
I Have Low Energy Communication Vinyl Stickers Set of 2
Regular price
$4.00
$0.00
Unit price
per
Introducing the "I HAVE LOW ENERGY" Vinyl Stickers! These communication vinyl stickers, inspired by our incredibly popular pins, provide a unique way to convey your experience of having low energy levels.
Each set includes two stickers in different sizes, offering versatility in placement. The larger sticker measures 0.66 inches in height and 3 inches in length, while the smaller one measures 0.44 inches in height and 2 inches in length. With both sizes included, you have the flexibility to choose the sticker that suits your preference or use them in different locations for maximum visibility.
Please be aware that once the sticker is removed from the backing, the black border surrounding the design decreases in size. This design characteristic ensures that the central message remains prominent and easily readable, allowing your low energy experience to be effectively communicated.
Crafted from high-quality vinyl, these stickers are designed to endure. They feature a strong adhesive that ensures they stay securely in place, whether you decide to apply them to your laptop, water bottle, notebook, or any other smooth surface.
The "I HAVE LOW ENERGY" Vinyl Stickers not only provide a means of self-expression but also serve as a way to raise awareness and understanding about the challenges of having low energy levels. By proudly displaying these stickers, you contribute to a more empathetic and supportive environment where people can better comprehend and accommodate varying energy levels.
Join the growing community of individuals who use these stickers to express their experiences and foster understanding. Order your set of "I HAVE LOW ENERGY" Vinyl Stickers today and let your voice be heard, encouraging a more inclusive and compassionate world.
---