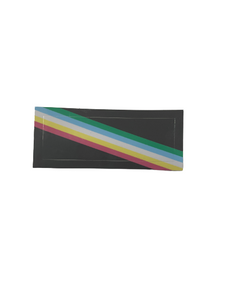 Retrophiliac
Disability Pride Flag Vinyl Sticker
Regular price
$4.00
$0.00
Unit price
per
Introducing our Disability Pride Flag Vinyl Sticker – a powerful representation of the disability community's strength, resilience, and solidarity. This glossy sticker measures 3 inches by 1 inch and features a kiss cut for easy application on any surface.
Designed by the talented Ann Magill in 2019, the original disability pride flag underwent a thoughtful makeover in 2021 to ensure accessibility for all. Magill recognized the need for change as the original zigzag design had adverse effects on individuals with visually triggered disabilities, including seizure and migraine disorders. The updated design now boasts muted colors and a straight diagonal band from the top left to the bottom right corner, creating a more inclusive and accommodating symbol of pride.
The disability pride flag carries profound symbolism within its design. Previously, the zigzags on the original flag represented the creative navigation of barriers faced by disabled individuals. However, on this improved version, the parallel stripes stand for something even more profound – intracommunal solidarity. It is a beautiful reminder that the disabled community supports and uplifts one another in their collective journey.
The vibrant colors featured on the flag represent the diverse range of disability experiences. The black background serves as a poignant tribute to disabled people who have tragically lost their lives due to negligence, suicide, rebellion, illness, and eugenics. It reminds us to continue fighting for a world where all lives are valued and celebrated.
Each stripe's distinct color symbolizes different types of disabilities:
Red: Physical Disabilities
Gold: Cognitive and Intellectual Disabilities
White: Nonvisible and Undiagnosed Disabilities
Blue: Psychiatric Disabilities
Green: Sensory Disabilities
By proudly displaying this Disability Pride Flag Vinyl Sticker, you are not only expressing your support for the disability community but also helping to spread awareness about the importance of accessibility, inclusion, and compassion.
Let this sticker be a reminder that disability pride is about celebrating uniqueness, breaking down barriers, and fostering a world where every individual is embraced for who they are. Stick it on your laptop, water bottle, notebook, or any other surface, and let the message of inclusivity shine brightly wherever you go.
Show your pride and join the movement for disability rights with this meaningful sticker. Order yours today and wear your advocacy with pride!
---