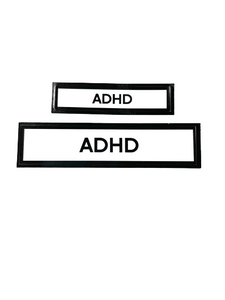 Retrophiliac
ADHD Communication Vinyl Stickers Set of 2
Regular price
$4.00
$0.00
Unit price
per
Introducing the "ADHD" Vinyl Stickers! These communication vinyl stickers are based on our highly popular pins and provide a simple and effective way to raise awareness about ADHD.
Each set includes two stickers, giving you both sizes for maximum flexibility. The larger sticker measures 0.66 inches in height and 3 inches in length, while the smaller one measures 0.44 inches in height and 2 inches in length. With these options, you can easily display your message on a variety of surfaces such as laptops, notebooks, water bottles, or any other smooth surface that could use some personalization.
Please note that once the sticker is removed from the backing, the black border surrounding the design will decrease in size. This design feature ensures that the main message remains prominent and easily visible, capturing attention and sparking conversations.
Crafted from high-quality vinyl, these stickers are designed to endure. They are durable, resistant to fading, and equipped with a strong adhesive that ensures they stay in place. Whether applied indoors or outdoors, they will withstand daily use without losing their vibrant colors or adhesion.
The "ADHD" Vinyl Stickers are not only a form of self-expression but also a means of advocacy. By displaying these stickers, you can help educate others about ADHD and foster understanding and acceptance. They serve as a visual cue, promoting empathy and encouraging supportive interactions.
Choose these vinyl stickers as a powerful tool to raise awareness about ADHD. Get your set today and start meaningful conversations while contributing to a more inclusive and compassionate society.
---