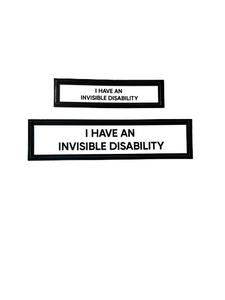 Retrophiliac
I Have An Invisible Disability Communication Vinyl Stickers Set of 2 Communication Vinyl Stickers Set of 2
Regular price
$4.00
$0.00
Unit price
per
Introducing the "I HAVE AN INVISIBLE DISABILITY" Vinyl Stickers! These communication vinyl stickers, based on our incredibly popular pin designs, offer a powerful way to raise awareness about invisible disabilities.
Each set includes two stickers, providing you with both sizes for maximum versatility. The larger sticker measures 0.66 inches in height and 3 inches in length, while the smaller one measures 0.44 inches in height and 2 inches in length. With both options available, you can prominently display your message on various surfaces such as laptops, notebooks, water bottles, or any other smooth surface that deserves personalization.
Please note that once the sticker is removed from the backing, the black border surrounding the design will decrease in size. This design feature ensures that the focus remains on the impactful text, making it easily visible and readable by others.
Crafted with high-quality vinyl, these stickers are built to last. They are durable and resilient, capable of withstanding everyday wear and tear without losing their vibrant colors or adhesive properties. Additionally, these stickers are weatherproof, making them suitable for both indoor and outdoor use. Rain or shine, they will stay firmly in place, acting as a visual representation of your invisible disability.
The "I HAVE AN INVISIBLE DISABILITY" Vinyl Stickers provide a voice for those with hidden challenges. By displaying these stickers, you are raising awareness about invisible disabilities and advocating for understanding and inclusivity.
Choose these vinyl stickers as a powerful tool for self-expression and advocacy. Get your set today and let your surroundings know about your invisible disability, encouraging empathy and support from those around you. Together, we can create a more inclusive and compassionate world.
---