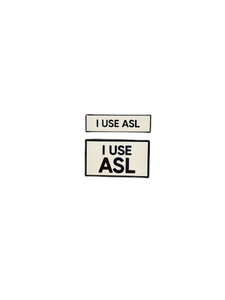 Retrophiliac
I Use Asl American Sign Language SMALL SIZE PIN 1.5 Inch Enamel Pin
Regular price
$11.00
$0.00
Unit price
per
Introducing the "I USE ASL" Enamel Pins: Empowering Communication and Celebrating Inclusion!

Express yourself and embrace inclusivity with our stylish and meaningful "I USE ASL" enamel pins. Designed to promote effective communication and support the vibrant Deaf community, these pins are a must-have accessory for school, work, conferences, and beyond. Available in two sizes, 1.5 inch x 0.39 inches and 1.5 inch x 0.87 inches, you can choose the perfect fit for your personal style.

Crafted with meticulous attention to detail, our enamel pins feature a sleek black text on a clean white background, elegantly framed with a black border. This minimalistic design ensures maximum legibility and versatility, making them suitable for any outfit or occasion.

We understand the importance of durability and security, which is why our pins are equipped with two posts on the back. This design ensures a secure and stable attachment, so you can proudly display your "I USE ASL" pin without worrying about it coming loose. For added peace of mind, we offer rubber backings as a standard option, providing a comfortable fit and preventing any accidental pricks.

If you prefer an extra level of security, we also offer locking backings as an optional upgrade. These specialized backings provide an additional layer of protection, ensuring that your pin stays firmly in place throughout the day. With the option to choose the backing that suits your needs, you can customize your pin to match your preferences and lifestyle.

Inclusivity and accessibility are at the core of our design philosophy. Our "I USE ASL" enamel pins are disability-friendly, enabling individuals with diverse abilities to proudly showcase their communication preference. By wearing this pin, you become an advocate for inclusiveness and an ally to the Deaf community, fostering a world where everyone can communicate and be understood.

Don't miss out on the opportunity to make a powerful statement while accessorizing your outfit. Whether you're a student, professional, or community member, our "I USE ASL" enamel pins are the perfect conversation starter and symbol of solidarity. Join the movement for effective communication and order your pin today!



WARNING: This is not a toy. Choking Hazard. Sharp edges. This product contains small parts and is not intended for children under 3 years old.

---