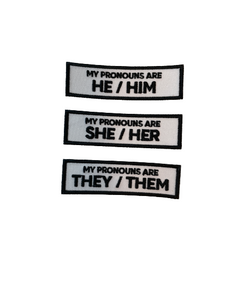 Retrophiliac
Pronoun Patches
Regular price
$7.00
$0.00
Unit price
per
Introducing Our Pronoun Iron-On Patches - Express Your Identity with Pride:

Description:
We are excited to introduce our Pronoun Iron-On Patches, available in three variations to suit your unique identity and expression. These patches are designed with a sleek and minimalist aesthetic, featuring a bold black outline, black text, and a clean white background, making your preferred pronouns clear and unmistakable. Choose from three variations: "MY PRONOUNS ARE THEY/THEM," "MY PRONOUNS ARE SHE/HER," and "MY PRONOUNS ARE HE/HIM."

Size:
- Dimensions: 7 cm x 2 cm
- For your convenience, this translates to approximately 2.75 inches in length and 0.79 inches in width.

These iron-on patches are not just stylish accessories; they are tools for promoting inclusivity and understanding. Easily attach them to clothing, bags, hats, or any fabric item of your choice, thanks to their convenient iron-on backing.

Variation 1: "MY PRONOUNS ARE THEY/THEM"
Celebrate your non-binary, gender-neutral, or genderqueer identity with this patch. By proudly displaying "MY PRONOUNS ARE THEY/THEM," you contribute to fostering an inclusive environment where everyone's gender identity is respected.

Variation 2: "MY PRONOUNS ARE SHE/HER"
Affirm your identity as she/her with this elegant patch. It's a powerful statement piece that promotes understanding and acceptance of various gender identities.

Variation 3: "MY PRONOUNS ARE HE/HIM"
Express your identity as he/him with this patch. It's a confident way to share your pronoun preferences and support the LGBTQ+ community.

Wearing any of these Pronoun Iron-On Patches is a statement of pride and support. Whether for personal use or as a thoughtful gift, these patches provide a powerful means of advocating for gender diversity and promoting respect for all pronoun identities. Join us in making a more inclusive and accepting world.
---